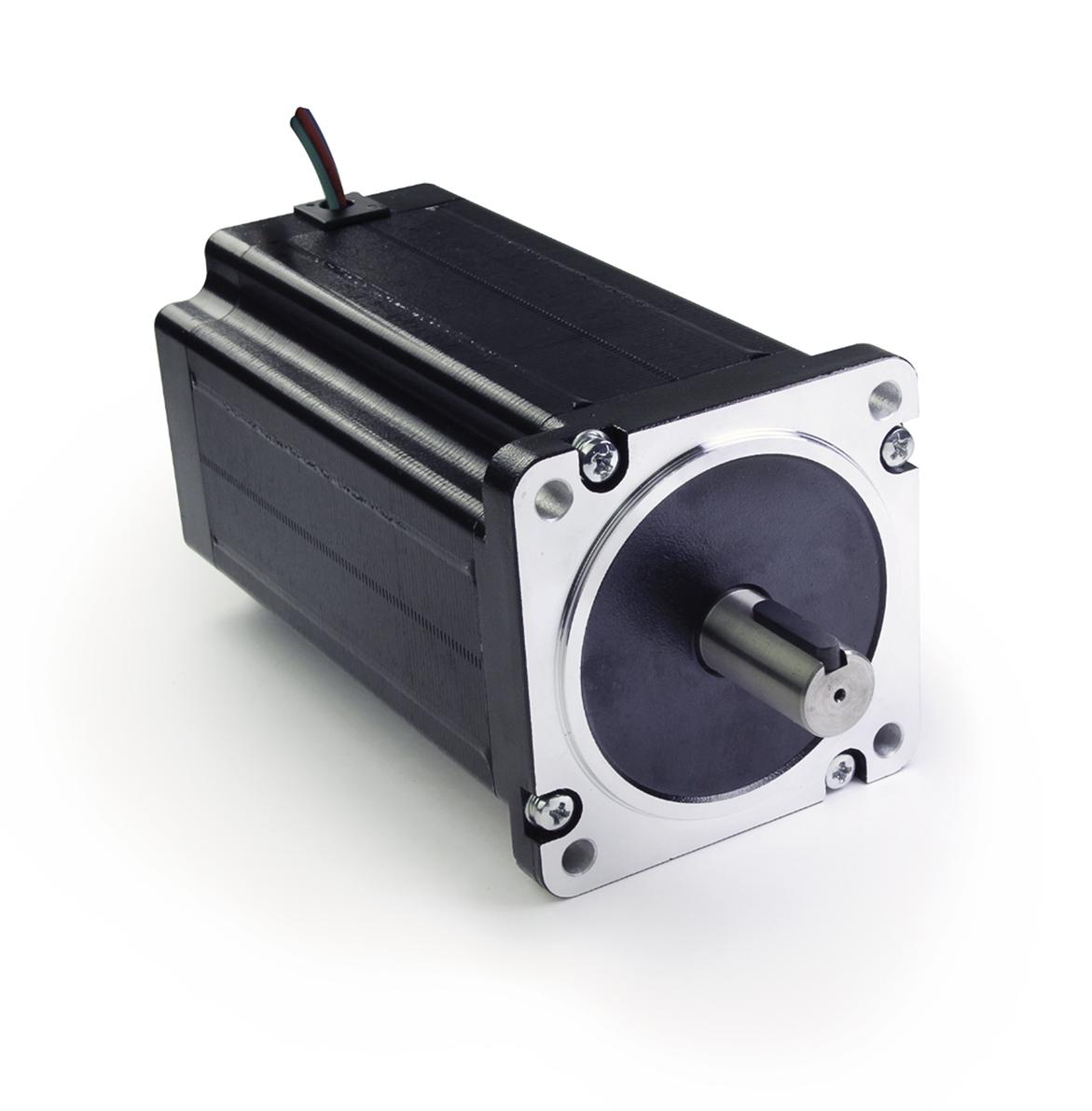 10 Available in 2 Business Days
Looking For Higher Volume?
Rapid Prototyping Motors
Start prototyping your next product fast. Our rapid prototyping motors provide a fast and convenient way for you to start prototyping your next product or design iteration with minimum downtime. Rapid prototyping motors are customizable and usually ship within 2-5 business days of ordering.
Torque Curves
Find the motor that fits your Target Torque (oz-in) and Target Speed (RPM)
Motor Specifications
| | |
| --- | --- |
| Base Motor Part Number | X8718-157-50 |
| Configured Motor Part Number | X8718-157-50 |
| Step Angle | 1.8° |
| Frame Size | 3.390 in |
| NEMA Size | NEMA 34 |
| Body Length | 6.180 in |
| Current (AMP) | 5 AMP |
| Holding Torque | 2124.18 oz-in |
| Resistance | 0.9 ohm |
| Rotor Inertia | 20.45 oz-in² |
| Number of leads | 4 |
| Connection | Bipolar |
| Weight | 11.31 lbs |
Operating Specifications
| | |
| --- | --- |
| Radial Play | 0.001 in @ 1 lbs |
| End Play | 0.003 in @ 3 lbs |
| Shaft Run Out | 0.002 TIR |
| Concentricity of Mounting Pilot to Shaft | 0.003 TIR |
| Perpendicularity of Mounting Pilot to Face | 0.003 TIR |
| Max Radial Load at Dimension "K" from mounting face | 39 lbs |
| Dimension "K" | 0.900 in |
| Max Axial Load | 15 lbs |
| Maximum Case Temperature | 176.00 °F maximum |
| Ambient Temperature | -4 ° to 122.00 °F |
| Storage Temperature | -4 ° to 212.00 °F |
| Humidity Range (%) | 85% or less, non-condensing |
| Magnet Wire Insulation | Class B 130 deg C |
| Insulation Resistance | 100M Ohm at 500 VDC |
| Dielectric Strength | 500 VAC for 1 minute |
Features And Benefits
The X8718 Series Motors are High Power Density motors ideal for applications that require higher speed and torque or increased efficiency.
Higher Dynamic Torque Higher power density means that X-Series can deliver more torque at your targeted speed than competitor's motor of the same size. This is thanks to our unique motor design which provides exceptional torque to size ratio. X-Series are ideal for applications requiring higher dynamic torque.
Higher Speed High power density means that X-Series can deliver higher speed at your target torque than a competitor's motor. Our unique motor design allows for greater efficiency, which extends the speed range of the motor at specified torque points while maintaining the same voltage as the competing motors. X-Series are ideal for applications that require moving load at higher speeds.
Smaller Size and Weight Higher power density means that you can get more performance out of a smaller and lighter package. X-Series offer similar performance to larger frame size, or longer stack length motors. This makes them ideal for space or weight constrained applications.
Higher Efficiency Per Watt Higher power density means that X-Series can operate more efficiently at your specified speed and torque requirements. This is especially important for applications that are sensitive to power draw, such as battery-operated devices, where every watt matters. The result is that X-Series can deliver the same performance as competing integrated motors while drawing less power.
Reduced Heat Generation The high efficiency and low power draw of X-Series results in the motor generating less heat. Furthermore, the motor's winding can be customized to operate at its highest efficiency for the application. This reduces heat generation even further. X-Series are ideal for applications where heat generation needs to be minimized.
Efficient at Lower Voltage Higher power density means that torque at speed can be achieved at a lower voltage than competing motors. X-Series are ideal for applications that are voltage constrained.
X-Series can be customized further to operate at their highest efficiency during a specified workload. This results in faster acceleration and more torque during the application's workload
Customizations & Optimizations
Lin Engineering can ensure that your hybrid stepper motor is optimized to deliver the required performance for your specific application, whether it's increasing torque at a specific speed range, reducing noise or vibration, or optimizing for minimal power consumption, or making specific modification to ensure proper and native fit within your assembly. Customization Services Include:
Optimized Winding
Multiple Shaft Options
Customized Leads & Connectors
Customized Housings & Mountings
Bearings & Lubricants
Mechatronic Solutions
Environmental Protection
Drivers & Controllers, Encoders, Gearboxes & Accessories
The result is that you'll get a motor that is fully optimized for your specific applications and configured to seamlessly fit with your assembly. This reduces your product's complexity, and increases the speed and ease of the assembly of your final product.
Speak with one of our sales representatives about your specific application needs by filling out a request for a quote.
Get the motor you need
Just fill out a Request for a Quote form, and tell us about your application and your needs. One of our applications specialists will review your request, and provide you with a quote promptly.