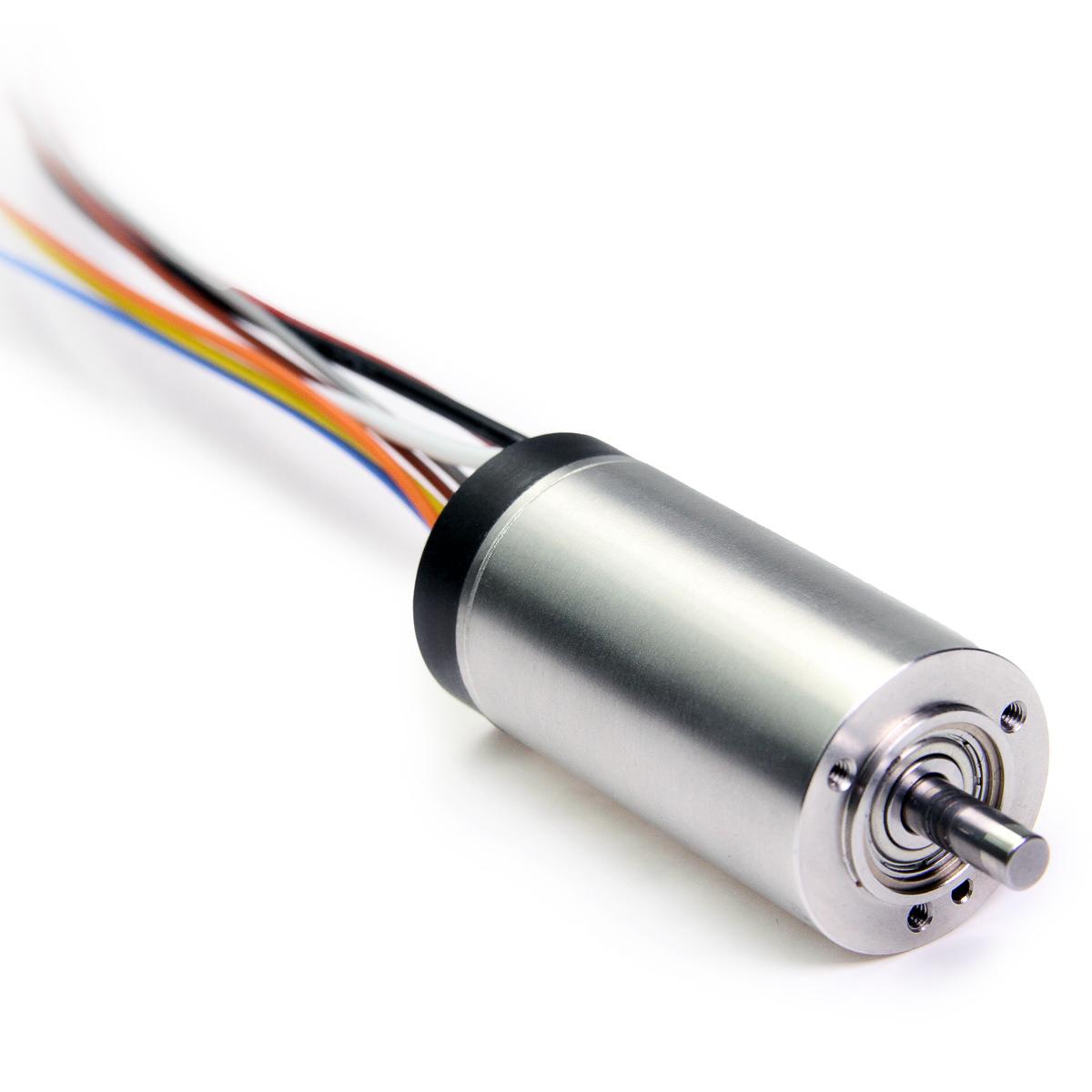 Specifications:
0.870 in Frame Size
1.56 A Rated Current
4.4041 oz-in Rated Torque
48 VDC Nominal Voltage
1.890 in Length
Features and Benefits:
Extremely quick response and high acceleration
Quiet Operation
High power density
Wide speed range (up to 30,000 rpm)
10 Available in 2 Business Days
Looking For Higher Volume?
Motor Specifications
| | |
| --- | --- |
| Frame Size | 0.870 in |
| Body Length | 1.890 in |
| Nominal Voltage | 48 VDC |
| No Load Speed | 19900 RPM |
| No Load Current | 253 mA |
| Max Speed | 30000 RPM |
| Rated Torque | 4.4041 oz-in |
| Rated Current | 1.56 A |
| Speed Torque Gradient | 7.9303 RPM/oz-in |
| Weight | 0.243 lbs |
Motor Operating Specifications
| | |
| --- | --- |
| Axial play | 0.006 in |
| Radial play | Preloaded |
| Max. force for press fits (static) | 13.488 lbf |
| Ambient Temperature | -40 ° to 212.00 °F |
| Max winding temperature | 311.00 °F |
| Thermal resistance (Housing-Ambient) | 48.20 °F/W |
| Thermal resistance (Winding-Housing) | 35.15 °F/W |
| Thermal time constant motor | 510 s |
| Thermal time constant winding | 1.59 s |
| Number of pole pairs | 1 |
Features and Benefits A typical brushless BLDC motor is constructed using a stator with "slots"; a copper wire is then wound around these slots. Although this technology works well, it has an inherent problem with cogging (or drag torque), which presents a challenge in applications needing fast response, fast acceleration and smooth operation.
To combat these issues, we've removed the slots from the motor. Instead of slots, we're using a unique process of winding the copper wire without the need of them. This drastically reduces cogging and improves the motor's ability to respond, accelerate quickly, and operate smoothly. Slotless BLDC motors are also quieter and provide more power with a smaller frame size than their slotted counterparts.
Reliable long life expectancy
Our motors are built to withstand at least 20,000 hours of continuous (24/7) operation. This means that you can feel confident that even your most sensitive application will operate reliably for a very long time.
Nearly silent operation
Detent torque is the biggest culprit of generated noise. Removing the slots and thus eliminating the detent torque drastically reduces the noise output of the motor.
Modular design for better customization
The modular design lets us combine the motor with a gearhead to match your specific speed and torque requirements. Also, our slotless BLDC motors are available in many windings so we can satisfy your requirements precisely. You can also customize the motor with sensors such as an optical encoder or hall sensor to provide accurate positioning control, velocity, and direction feedback.
Cost effective
Our unique manufacturing process lets us create motors that are built to your exact specifications, while remaining highly cost effective. Get exactly what you need without breaking your budget. Slotless BLDC Motor Applications
Robotic grippers and claws
Medical and surgical tools
Miniature pumps and ventilators
Testing and measuring equipment
Semiconductor handling equipment
Robotics Slotless BLDC Motor Construction Get the motor you need
Just fill out a Request for a Quote form, and tell us about your application and your needs. One of our applications specialists will review your request, and provide you with a quote promptly.