solar panel tracking systems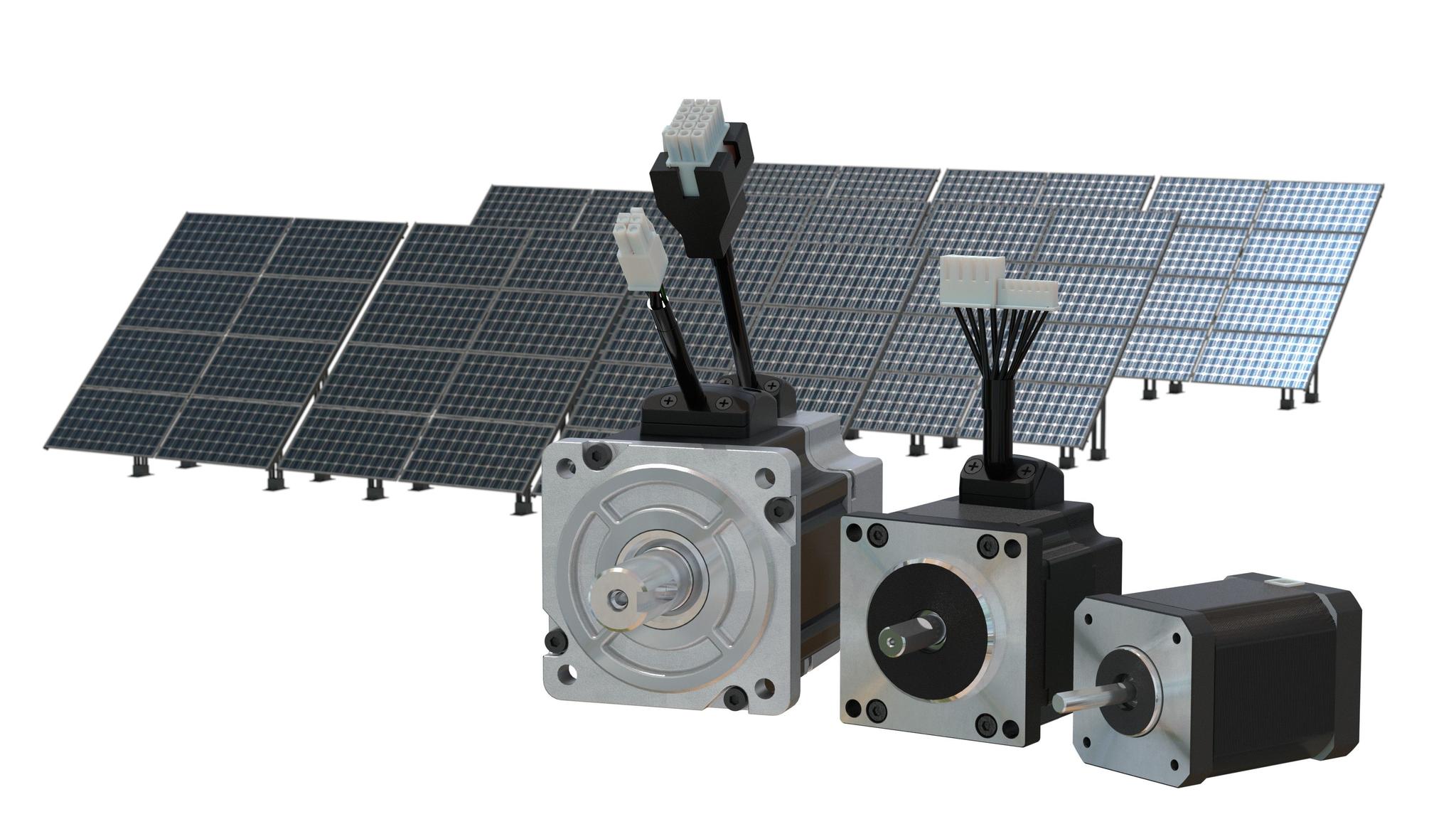 Stepper Motors and BLDC Motors for Solar Panel Tracking Systems Lin Engineering designs and manufactures Hybrid Stepper Motors and BLDC motors that are specifically tailored for use in Solar Panel Tracking Systems. These motors have been engineered to deliver exceptional performance, with low power consumption, high reliability (requiring minimal maintenance), and the ability to operate in a range of extreme weather conditions, including those with high levels of dust and moisture. They are also designed to operate in both hot and cold temperatures, making them ideal for use in solar panel tracking systems in a range of different climates. With Lin Engineering's expertise and dedication to quality, these motors are an excellent choice for any solar panel tracking system.
Low Power Draw - Maximum Efficiency Lin Engineering's hybrid stepper motors and BLDC motors are engineered to deliver optimal performance with low power consumption, making them an excellent choice for use in solar panel tracking systems. These motors are designed to keep the power draw of the system to a minimum, ensuring that the system operates at peak efficiency. With Lin Engineering's focus on energy efficiency, solar panel tracking systems can maximize their power generation potential.
Reliable solution - Reducing Overall Operating Costs Lin Engineering motors offer low maintenance and high reliability, making them an excellent choice for solar tracking system applications. These motors are engineered with precision and durability in mind, ensuring a long lifespan and minimal need for maintenance or repairs. With robust construction and high-quality components, Lin Engineering motors can withstand the rigors of continuous operation in solar tracking systems. Their reliable performance ensures uninterrupted tracking of the sun's movement, maximizing energy production without frequent interruptions or downtime. Solar installations can rely on Lin Engineering motors to deliver consistent and dependable performance, minimizing the need for regular maintenance and reducing overall operational costs.
IP Rated - Protected from the Environment Lin Engineering caters to the unique requirements of solar tracking applications by offering IP65 and IP67 rated motors. These motors are designed to provide exceptional ingress protection, ensuring reliable performance in challenging outdoor environments. With an IP65 rating, the motors are highly resistant to dust and water, safeguarding them from potential damage and ensuring their longevity. For even more stringent protection, the IP67 rated motors offer superior resistance to dust and complete protection against immersion in water up to a certain depth. Lin Engineering's IP65 and IP67 rated motors are the ideal choice for solar tracking applications, providing the necessary durability and reliability to withstand harsh conditions and maximize operational efficiency.
High/Low temperature operation Lin Engineering motors are designed to excel in extreme temperature conditions, making them the optimal choice for solar trackers that endure both high and low temperatures. With an impressive operating range of -40 degrees Celsius to 80 degrees Celsius, these motors can withstand the harshest environmental conditions. Whether it's the scorching heat of a summer day or the freezing chill of winter, Lin Engineering motors deliver exceptional performance and reliability.
Brushless DC (BLDC) Motors BLDC motors are highly versatile and available both with and without gearboxes, making them a suitable choice for various solar panel tracking applications.
NEMA 17, 23, and 34 Mounting
Available with 5:1, 10:1, 50:1 and 100:1 Gearboxes
Wide Range Of Speed Control and Smooth Torque Output
Excellent Speed Stability
Small Size, High Power
Low-Temperature Rise, Low Noise, Low Vibration
Long Life, Low Maintenance Costs
Low Positioning Torque
Energy Efficient
Custom Windings and Modifications Available Hybrid stepper motors, offering open-loop position control and high low-speed torque, are available with and without gearboxes for solar panel tracking applications.
NEMA 6 to NEMA 42 frame sizes
Available with gearboxes
High reliability with little maintenance
Open loop operation - No feedback is required for position or speed control
IP65 and IP67 rated motors available
Cost-effective solution
Custom windings and modifications available Lin Engineering provides an extensive selection of gearboxes ideal for solar tracker applications.
Geared Hybrid Stepper Motors
Geared BLDC Motors
NEMA 17, 23, 34 Frame Size
5:1, 10:1, 20:1, 50:1 gear ratios in stock
3:1, 4:1, 7:1, 15:1, 16:1, 25:1, 28:1, 35:1, 40:1, 100:1 gear ratios also available
Extensive Lineup of Motors and Products Stepper Motors
Hybrid Steppers
PM Steppers
Linear Actuators
Integrated
BLDC Motors
Conventional
Frameless
Servo
Slotless
Integrated
Drivers & Controllers
EtherCAT
CANopen
Modbus
EtherNet/IP
Value Add & Assemblies
Gearboxes
Wheel Motors
Encoders
Wire Harness
Many Configurations
IP Rated/Sealed
Vacuum
Low and High Temp.
Why Lin?
Find Out Why More Engineers Are Choosing Lin Engineering
Proven Supply Chain And Capacity
Motor Production
in California
Full Value Add Options
& Assemblies
Over 30M motors
produced annually
Rapid Prototypes &
California Based Kanban for Production
Unrivaled Support
Applications Engineers
throughout the US for local support
Full Design Engineering
out of California
U.S.
CORPORATE HEADQUARTERS
• Morgan Hill, California (Silicon Valley)
• Full Production of Motors & Assemblies
• Full Staff of Engineering and CAD
• On-Site Quality, Customer Service, and Sales
• Kanban and Safety Stock
• Prototypes in 2 Weeks OVERSEAS
FACILITIES
• Over 1.5M sq feet of facilities space
• Locations in Vietnam, China and Europe Ready to start on your next Solar Tracker development project?
Let us know how we can help. Give us a call or fill out the request for a contact form in the sidebar, and one of our experts will connect with you soon.
Ready to start on your next Solar Tracker development project?
Let us know how we can help.
Ready to start on your next product development project?