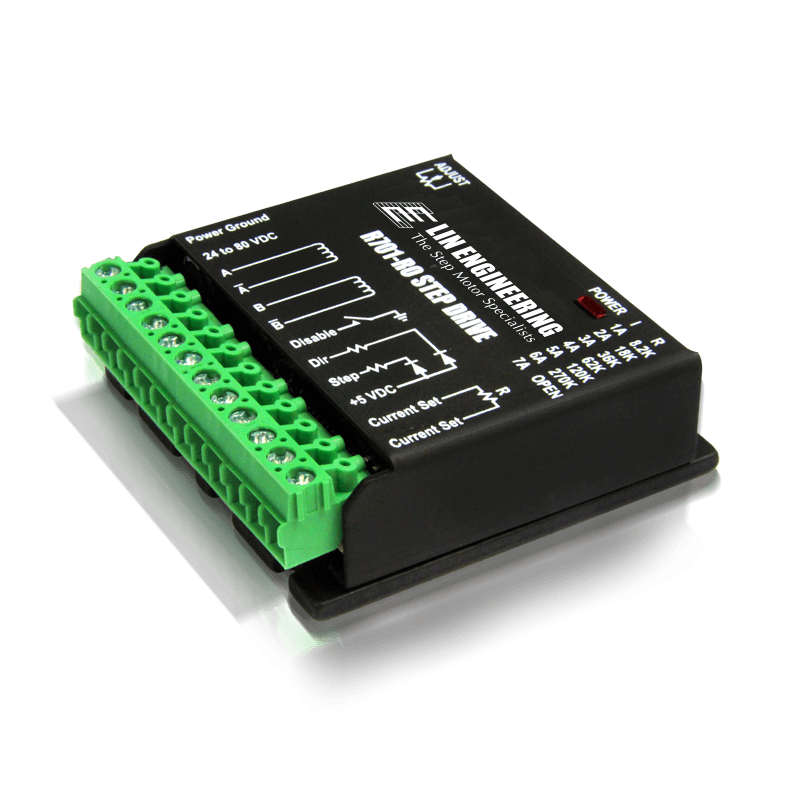 Features and Benefits:
Built-in step pulse multiplier 1, 2, 5, and 10
Common Ground or Common +5 Volts Input Option Available
Input Voltage of +12 to 80 VDC
Phase Current Ranges from 0.3 to 7.0 Amps Peak
Full step, 1/2, 1/4, 1/8, 1/16, 1/32, 1/64, 1/128, 1/256
RS485 Communication with Optional Converter Cards Available
2 User Configurable Digital I/O
2 Dedicated Inputs: 1 Optical Sensor for Homing, 1 Switch Closure to Ground
Fully Programmable Ramps and Speeds
Software Selectable Hold and Move Currents
Stand Alone Operation with No Connection to PC
Stores up to 16 Different Programs at Once with 4 kBytes of Mem
Options
ADJUSTABLE TRIMPOT
The potentiometer shown on the board can be rotated using a screwdriver. It's recommended to rotate the motor at 0.25 RPS. Then to adjust the potentiometer until there is the least amount of vibration and noise coming out of the motor. This will be the position that the driver will perform smoothly with a given motor and power supply voltage.
The adjustment will alter the current waveform coming out of the driver and into the motor coils. R710 INCLUDES A BUILT-IN STEP PULSE MULTIPLIER BOARD
The R710 has the same features as the R701 plus two additional features: Input Option Header – allows the use of a Common Ground or a Common +5VDC for optically isolated inputs
Step Pulse Multiplier – will always output 10 microstepping, even with a step input of Full Step, Half Step, 5 Microstep, or 10 Microstep. The user no longer needs to change their original setup to get microstepping. Simply select the desired step multiplier of 1, 2, 5 or 10; to achieve the 10 microstepping output from the driver, while maintaining the rotational speed that you had in your original setup.
Dimension Pin Outs
| PIN NUMBER | FUNCTION |
| --- | --- |
| 1 | Power Ground |
| 2 | +24 to 80 VDC |
| 3 | A Phase |
| 4 | A Bar Phase |
| 5 | B Phase |
| 6 | B Bar Phase |
| 7 | Disable |
| 8 | Direction |
| 9 | Step |
| 10 | +5 VDC |
| 11 | Current Set |
| 12 | Current Set |
To set the Current with the Correct Resistor, use the following Table:
| CURRENT (Amps) | RESISTANCE (Ohms) |
| --- | --- |
| 1 | 8.2K |
| 2 | 18K |
| 3 | 36K |
| 4 | 62K |
| 5 | 120K |
| 6 | 270K |
| 7 | OPEN |
Electrical Specifications
INPUT VOLTAGE: +24 to 80
DRIVE CURRENT(PER PHASE): 0.3 to 2 Amps or 1 to 7 Amps
ISOLATED INPUTS: Step Clock, Direction, Enable & Disable
STEP FREQUENCY (MAX): 200kHz
STEPS PER REVOLUTION (1.8º MOTOR): 2000