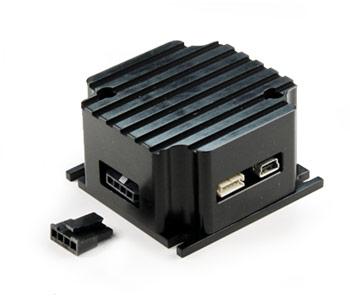 Features and Benefits:
Operates from +12 to 48 VDC
Software selectable run currents from 0.1 to 5.0 Amp Peak
Software selectable hold currents from 0 to 5.0 Amp Peak (in 0.05 Amp increments)
Step Resolutions from Full step to 256x Microstepping
Communicating using RS485 and USB
Operates in both Open loop and Closed loop modes
Programmable analog input to change velocity and position.
Programmable digital output for feedback.
Options
Each R525P-RO comes with the following 4 cables in order for you to get up and running. No Designer's Kit is required in order to operate one unit. R525P GUI SETUP Dimension Pin Outs P1 MOTOR CONNECTOR PIN-OUTS
| PIN | FUNCTION | COLOR |
| --- | --- | --- |
| 1 | Motor Phase A | RED |
| 2 | Motor Phase A- | BLUE |
| 3 | Motor Phase B | GREEN |
| 4 | Motor Phase B- | BLACK | P2 ENCODER CONNECTOR PIN-OUTS
| PIN | FUNCTION |
| --- | --- |
| 1 | Channel B |
| 2 | 5V Input |
| 3 | Channel A |
| 4 | Index |
| 5 | Ground | P4 I/O CONNECTOR PIN-OUTS
| PIN | FUNCTION | COLOR | DESCRIPTION |
| --- | --- | --- | --- |
| 1 | +5V out | Red/White | 5 VDC out |
| 2 | Opto COM | Yellow | This is a 5VDC input in order to optically isolate the logic signals (step, direction, disable pins). If no isolation is required, you can connect this pin to Pin 1, the 5VDC output. |
| 3 | Disable pin | Blue | Enable/Disable pin. When pin is low, or touching Pin 12 Ground, the driver is disabled. If left alone (high), driver is enabled |
| 4 | RS485/A | Black/White | Communication line for RS485 connection. Used for dasiy chaining multiple units |
| 5 | Ground | Green/White | Power Supply Ground |
| 6 | POWER+VE | Red | Motor Power Supply Voltage, +12 to 48VDC |
| 7 | Direction | Orange | Direction input. Default connection will rotate the motor CCW. If this input is low, or touching Pin 12 Ground, rotation will be CW. |
| 8 | Analog input | White | This input can take a potentiometer |
| 9 | Step input | Blue/White | Step pulse input. The step clock input will receive a clock pulse input (TTL squarewave signal, 0 to 5VDC), where one pulse will move the motor one step |
| 10 | RS485/B | Brown | Communication line for RS485 connection. Used for dasiy chaining multiple units |
| 11 | Output | Black | Via the GUI, user can choose to disable the unit, change motor direction, close upon fault, toggle when index is detected on the encoder, close when motor is stalled, moving or holding |
| 12 | Ground | Green | Signal ground, also known as digital ground | Electrical Specifications
OPERATES FROM +12 to 48 VDC
DRIVE CURRENTS (per phase): 0.1 to 5.0 Amps Peak
ISOLATED INPUTS:Step,Clock, Direction, and disable
STEP FREQUENCY (Max): 1 MHz
STEPS PER REVOLUTION (1.8° MOTOR): 200, 400, 800, 1600, 2000, 3200, 5000, 6400, 10000, 12800, 25000, 25600, 50000, 51200
MICROSTEP RESOLUTIONS (1.8° MOTOR): Full step, 2X, 4X, 5X, 8X, 10X, 16X, 25X, 32X, 50X, 64X,125, 128X, 250X, 256X
OPERATING TEMPERATURE: Heatsink maximum temp 85°C