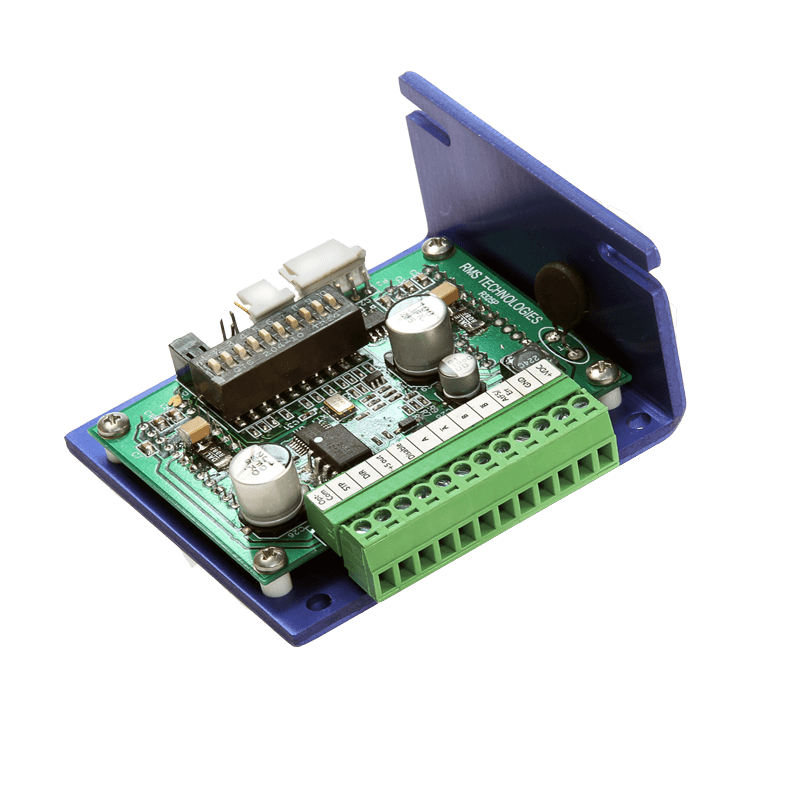 Features and Benefits:
Operates from +12 to 48 VDC
Phase current from 0.3 to 3.0 Amps Peak
Step Resolutions from Full to 256 microstepping
Hold current reduction capability with adjustable current and timeout settings
Three optically isolated control inputs and one optically isolated control output
Configuration parameters stored in non-volatile memory
Multiple module control through software assigned single character addresses
Built-in control routines for trapezoidal position and velocity moves
Options
The designer's kit (sold separately) enables first time users to connect to the R325PE via PC. The R325PE is an indexer and encoder reader and can be used in conjunction with the user's main controller or PLC device. Without it, the R325PE can simply send and receive commands but no program can be downloaded and run upon power up (no EEPROM available).
RS232 Designer's Kit (Lin p/n: RS232KIT-04)
RS485-232 converter card (Lin Part number 083-00059)

3-Pin to 3-Pin cable for communication

5-Pin to 5-Pin cable for Encoder connection USB Designer's Kit (Lin p/n: USBKIT-04)
USB485 converter card

3-Pin to 3-Pin cable for communication

5-Pin to 5-Pin cable for Encoder connection

6 foot long USB cable Dimension Pin Outs
J1 CONFIGURATION
| PIN NUMBER | FUNCTION |
| --- | --- |
| 1 | Common +ve External |
| 2 | Step (in) |
| 3 | Direction (in) |
| 4 | +5 VDC Internal |
| 5 | Disable (in) |
| 6 | Motor A+ (out) |
| 7 | Motor A- (out) |
| 8 | Motor B+ (out) |
| 9 | Motor B- (out) |
| 10 | Full Step (out) |
| 11 | Power Ground |
| 12 | Power Positive |
JP3 CONFIGURATION
A seperate three pin connector JP3 is provided for the RS485 bus interface
| PIN NUMBER | FUNCTION |
| --- | --- |
| 1 | A Input (+VE) |
| 2 | Ground |
| 3 | B Input (-VE) |
Electrical Specifications
INPUT VOLTAGE: +12 to 48
DRIVE CURRENT(PER PHASE): 0.3 to 3.0 Amps Peak
ISOLATED INPUTS: Step Clock, Direction,and Disable
STEP FREQUENCY (MAX): 2.5 MHz
STEPS PER REVOLUTION (1.8º MOTOR): 200,400, 800, 1600, 3200, 6400, 12800, 25600, 51200