Hybrid Stepper Motor with 8 Pin Connector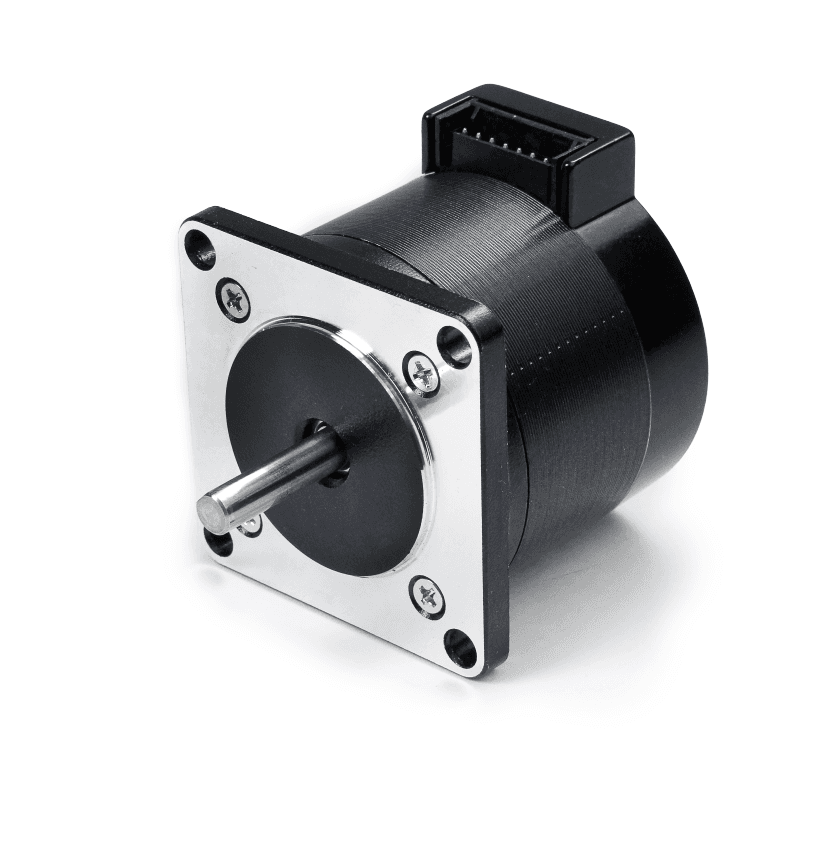 8-Pin Integrated Connector
NEMA 23 (57 mm) Hybrid Stepper Motor With An Integrated 8-pin connector allows for multiple connection options
Standard and customized windings to match performance requirements
Standard and customized shaft options
Customizable leads and wire harness
High volume availability
Cost-effective solution
A perfect drop-in replacement
Integrated 8-pin Connector Allows for Multiple Connection Options Lin Engineering's NEMA 23 (57mm) Hybrid Stepper Motor is now available with an 8-pin integrated connector. This motor is versatile because it can be wired in multiple ways depending on application needs:
Unipolar
Bipolar Parallel
Bipolar Series
Bipolar Half Coil
Standard and Customized Windings to Match Performance Requirements
For OEM-type projects, our Application Engineering team can work directly with your engineering team to optimize the motor for your specific needs. We can match the performance of an existing motor that you're trying to replace, or optimize the performance for a new application.
Our database consists of thousands of different winding recipes that we've tested in the past. We can look at the specific performance characteristics of your application and often match a winding that will perform optimally. If we cannot find a winding, we can always design and test a series of windings to nail down a recipe that will work for you. Standard and Customized Shaft Options We offer many different standards and customized shaft options for your motor to make it fit your application seamlessly. Some of our more popular shaft options include flat shaft, helical-cut shaft, cross-drilled shaft, slotted shaft, hollow (pass-through) shaft, as well as press-fit gears, or pulleys.

We can also utilize your proprietary shaft design or shaft components. For more information, please contact the sales engineering department.
Customizable Leads and Wire Harness Utilize our in-house wiring and wire harness manufacturing capabilities to customize the wiring and cabling to your exact specifications. Wiring and Cabling options include: custom leads and cabling lengths, custom color-coded lead wires, braided or twisted leads, heat shrink tubing PTFE insulation, EMI/RFI/EMP shielded cables, and custom wire harnesses, and much more.
High Volume Production Availability Our multiple manufacturing facilities—within the United States and in Asia — allow us to maintain the volume you need. Our Northern California facility is optimized for low to mid-volume production, while our off-shore facilities are optimized for high volume production, allowing us to scale with your manufacturing requirements. Additionally, Lin Engineering has been increasing the inventory of motors and components in order to increase motor availability and minimize extended lead times.
Cost Effective Solutions
The primary concern of most manufacturers is the total price point of a unit. Lin Engineering is a vertically integrated company with the ability to manufacture many of our own motor components. This allows us to lower the overall unit cost compared to other manufacturers, and also avoid many of the supply chain issues other suppliers face today.
Additionally, Lin Engineering benefits from utilizing multiple manufacturing facilities based on volume needs. Our USA and Asia-based manufacturing floors are optimized for low volume (as few as 10 motors) to high volume (as many as 10 million motors) production runs. This means that we can start production with minimal lead time while simultaneously ramping up high volume production, which brings down the total unit cost for you.
A Perfect Drop-In Replacement
If you are currently facing supply chain shortages or disruptions or looking for an alternative supplier for a Hybrid Stepper Motor with an 8-pin connector, then please let us know about your project. Our USA-based engineering team can work with you to match the performance and form factor of your current motor and make it effortless to qualify Lin Engineering as your primary or secondary source supplier.
Speak with one of our motion control experts about your next project.
Ready to start on your next product development project?