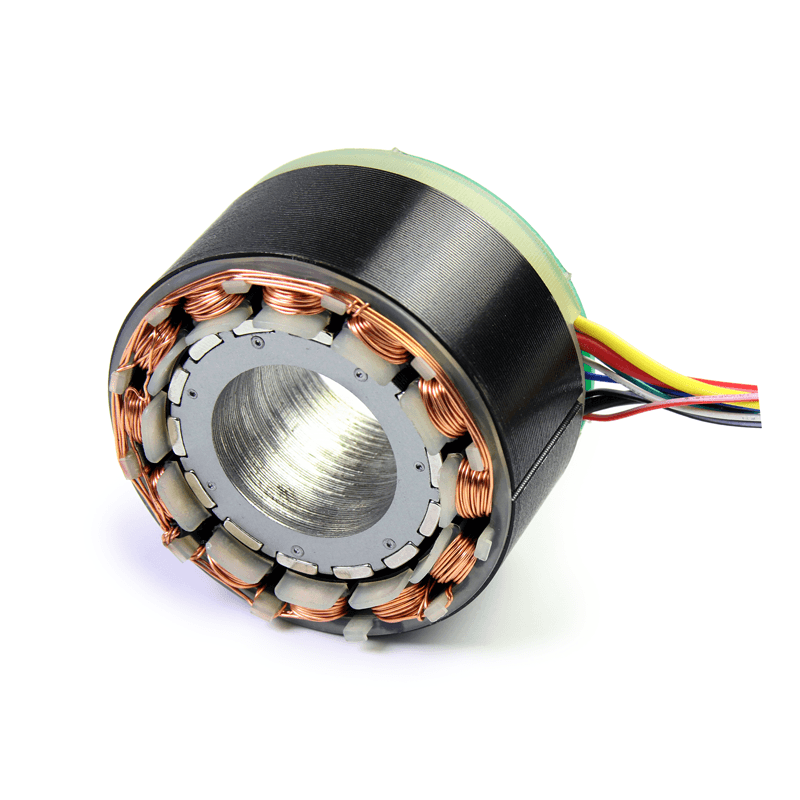 Specifications:
2.360 in Frame Size
5.2 A Rated Current
84.97 oz-in Rated Torque
48 VDC Rated Voltage
0.990 in Length
Features and Benefits:
Highly Integrated
High Torque
High Efficiency
Optional Hall Sensors
Motor Specifications
Phase

3

Number of Poles

14

Frame Size

2.360 in

Stator Thickness

0.980 in

Rated Voltage

48 VDC

Rated Output Power

213.52 W

Rated Speed

3400 RPM

Max Speed

(Consult with Lin for greater speeds)

5000 RPM

Rated Torque

84.97 oz-in

Rated Current

5.2 A

Max Torque

169.93 oz-in

Resistance

0.49 ohm

Terminal Inductance

0.44 mH

Torque Constant

16.993 oz-in/A

Rotor Inertia

2.85 oz-in²

Weight

0.888 lbs

Back EMF Constant

12.56 V/kRPM

Electrical Time Constant

1.05 ms

Mechanical Time Constant

7.97 ms
Torque Curves
Peak Range

Continuous Range
Motor Operating Specifications
| | |
| --- | --- |
| Insulation Class | Class B 130 deg C |
| Dielectric Strength | 500 VDC for 1 minute |
| Insulation Resistance | 100 Ω Min. 500 VDC |
| Ambient Operating Temperature | -22 ° to 185.00 °F |
| Storage Temperature | -4 ° to 212.00 °F |
| Humidity Range (%) | 85% (RH) non-condensing |
Features And Benefits Frameless BLDC motors allow for maximum integration with your assembly.

A frameless brushless DC (BLDC) motor does not have a physical frame or housing that surrounds the rotor and stator. Instead, the rotor and stator are separate components that are designed to be mounted directly to the application in which the motor is used. The lack of a frame allows for greater flexibility in design and installation, as well as a reduction in weight and size.
Frameless BLDC motors are often used in applications where space is limited, such as in robotics or surveillance systems, and are also commonly used in portable equipment, like electric tools and medical devices, where a more compact design is desirable.
Get the motor you need
Just fill out a Request for a Quote form, and tell us about your application and your needs. One of our applications specialists will review your request, and provide you with a quote promptly.